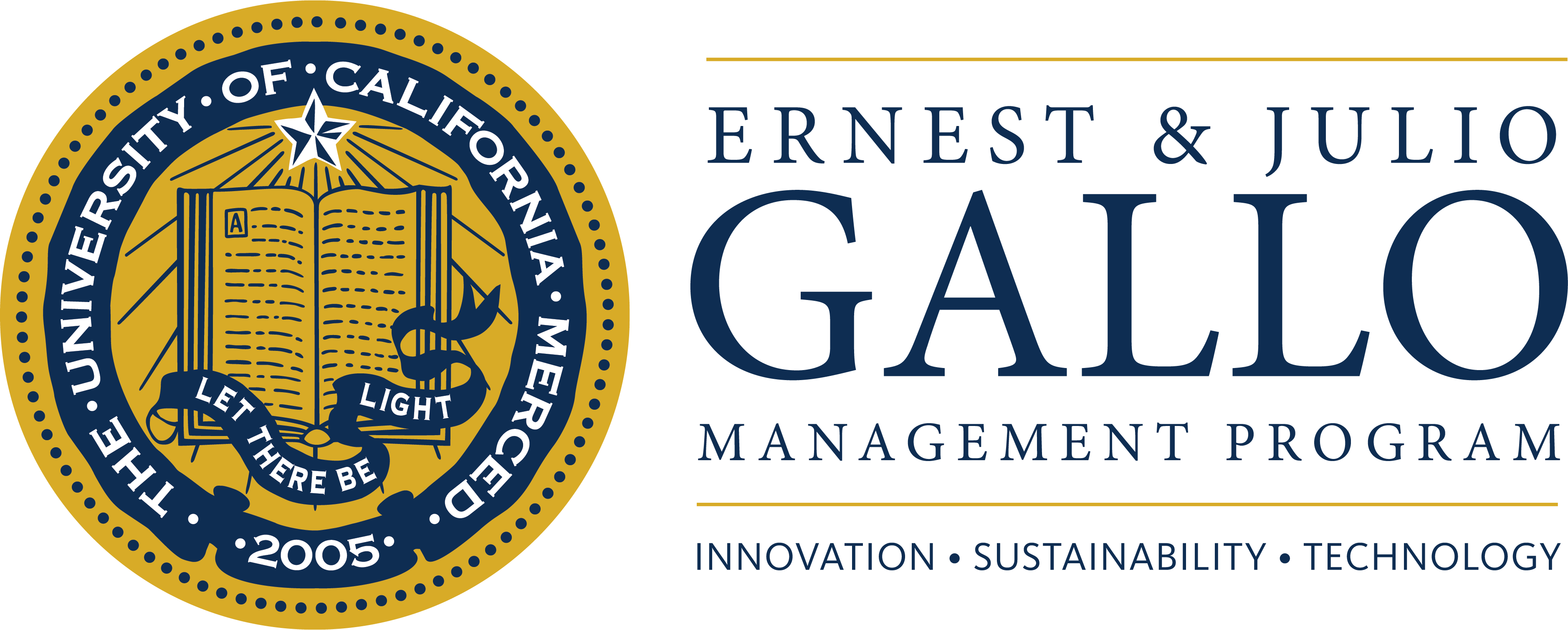 The Gallo School Initiative is a faculty-led effort to develop a proposal for a new interdisciplinary school at UC Merced that combines the Department of Cognitive and Information Sciences, the Department of Management and Business Economics, and the Department of Management of Complex Systems (and possibly others) focusing on the complexity of real-world problems and systems; the need to gather and analyze data and information in real time; behavior and management of individuals, firms, institutions, and economies; and sustainability of coupled human-natural systems.
We face the challenge of creating a sustainable society in a time when humans are the dominant influence on climate and the environment. The key to engineering a sustainable civilization lies in understanding and managing complexity at the intersection of individual and collective human behavior, sustainable socio-technological innovation, and the natural environment. The opportunity lies in gaps in knowledge related to
understanding complex human behavior and decision-making in individual, interactive, organizational, institutional, technological, and natural settings;

understanding complex interactions between natural processes and human-designed or human-influenced systems;

designing complex systems that sustainably and efficiently couple people, technologies, and natural processes; and 

managing complex real-world systems to put theory into practice and improve human and natural conditions locally and globally.
When provided with a generous gift by the the Gallo Family and Winery to establish a school of management in 2002, UC Merced did not have the faculty or experience to establish a distinctive school worthy of the UC and Gallo names.  Now the campus has the opportunity to create a unique and cutting-edge program by combining elements from management, cognitive and behavioral sciences, economics, computational modeling, studies of complex systems, and management of natural resources, among other areas.
The preliminary vision for a cross-disciplinary management school of the future articulates a transdisciplinary enterprise that draws on the expertise of scientists, researchers and practitioners from broad backgrounds, combining the Department of Cognitive and Information Sciences, the Department of Management and Business Economics, and the Department of Management of Complex Systems and possibly others, to instill in students the skills needed to balance management, information, and sustainability; the knowledge needed to understand, design and manage complex systems; and to balance and a passion for embracing the complexities of real interactions among people, technologies, and the natural world.
A precursor to a new School, the Ernest & Julio Gallo Management Program, is home to a novel one-year Master of Management degree program aimed at providing recent graduates with a competitive set of practical, project-based management skills for addressing the  challenges commonly faced by professionals in for-profit and non-profit enterprises and public organizations. The Ernest & Julio Gallo Management Program is also home to an undergraduate major in Management and Business Economics, as well as the National Parks Institute Executive Leadership Seminar, a 10-day intensive management seminar on leadership, innovation, and organizational renewal for park and protected-area leaders.
There are many points of intersection in the educational curricula of management, economics, cognitive science, and environmental sciences. There are common concepts and skills – such as the mathematics of complexity, big data analytics, computational modeling of complex dynamical systems, and applied ethics – that could more effectively be taught in a coordinated fashion, giving rise to efficiencies in teaching, as well as unique interdisciplinary educational experiences. Management students will benefit from easy access to coursework on the scientific study of human cognition. Since many cognitive science graduates pursue careers involving leadership positions outside of the academy, management skills will be seen as useful augmentations to their scientific training. Curricula coordinated at the school level, along with appropriate student academic advising, could then facilitate the integration of program majors and minors, thereby facilitating a smoother transition from undergraduate programs into practice-based professional graduate programs, such as the new Master of Management program.
The fields to be united in the new school have common needs for institutional support at the school level. For example, there are similar needs for staff expertise surrounding the pursuit of extramural research funding. All areas require strong instructional and research computer systems support. The common focus on application domains at the nexus of technology, coordinated human activity, and environmental impact offers a number of benefits, including opportunities for synergies in educational programs, substantially overlapping targets for graduate placement, similar research collaboration arrangements with non-academic institutions, and shared potential sources for school level financial development.  
Faculty members in the new school would come from diverse backgrounds, including economics, water, forest and natural lands management, environmental economics, business management, human cognition, big-data analytics, service science, entrepreneurship, philosophy, security and privacy, knowledge management and behavioral operations, among others.
With broad participation from stakeholders across campus and help of industry leaders and others across the state, we are developing the academic and financial plan needed create the new Gallo School. 
A new standalone Gallo school would become the campus's fourth school, joining the schools of Engineering, Natural Sciences, and Social Sciences, Humanities and Arts, and the campus's first named school.
Funded largely through a generous endowment from longtime campus friends and supporters the Ernest & Julio Gallo Family and Winery, the Gallo school would combine innovation and tradition, and theory and practice to become something distinctive and truly worthy of the Gallo name and the University of California.
---